Posts for tag: tooth decay
By Personalized Dentistry
September 12, 2018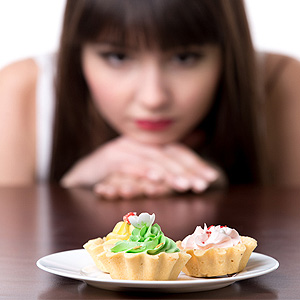 We've waged war for decades against tooth decay through oral hygiene and the increasing use of fluoride, nature's "super weapon" against this disease. And yet, tooth decay remains a significant health problem.
One major reason is refined sugar found in many processed foods. In the 1970s researchers raised concerns about the fat content of many processed foods, so manufacturers began removing fat from their products — along with much of the flavor. To compensate, they added sugar. Today, three-quarters of approximately 600,000 food products contain sugar.
This has increased average individual consumption to 90 pounds of sugar annually. The World Health Organization says we should consume no more than 20 pounds annually, or about 6 teaspoons a day. A single can of soda contains 4 teaspoons, two-thirds of the daily allowance.
High sugar consumption is an obvious threat to dental health: decay-causing bacteria thrive on it. But the trend has also been linked to serious health problems like diabetes and heart disease.
Hopefully, changes in public policy will one day modify the addition of sugar in processed foods. In the meantime, you can take action for yourself and your family to create a more healthy relationship with this popular carbohydrate.
Shop wisely. Learn to read and understand food labels: steer clear of those containing sugar or large numbers of ingredients. Become acquainted with sugar's many other "names" like corn syrup or evaporated cane juice. And maximize your shopping on a store's outer perimeters where you'll find fresh fruits, vegetables and dairy products, rather than the middle aisles with "boxed" processed items.
Avoid sugar-added drinks. Limit consumption of sodas, sports drinks, sweet teas or even juice to avoid added sugar. Make water or sugar-free beverages your go-to drinks. It's much better to eat sugar naturally found in fresh fruits and vegetables, where fiber helps slow it's absorption in the body, than to drink it.
Exercise. Depending on your condition, physical exertion is good for your overall health. It's especially beneficial for your body's ability to metabolize sugar. So with your doctor's advice, exert your body every day.
It's important to engender a proper relationship with sugar — a little can go a long way. Putting sugar in its rightful place can help you avoid tooth decay and increase your chances of greater overall health.
If you would like more information on sugar's impact on dental and general health, please contact us or schedule an appointment for a consultation. You can also learn more about this topic by reading the Dear Doctor magazine article "The Bitter Truth About Sugar."
By Personalized Dentistry
May 05, 2018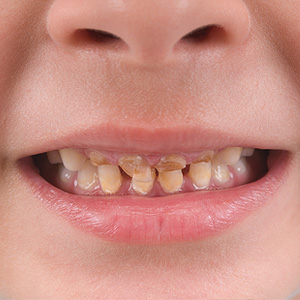 When your baby's first teeth come in, you might not think it necessary yet to worry about tooth decay. But even infants can develop this common dental disease. In fact, it has a specific name in children 6 and under: early childhood caries (ECC).
About one-fourth of U.S. children have ECC, and poor or minority children are at highest risk. Because of primary ("baby") teeth's thin enamel layer, ECC can spread to healthier teeth with unnerving speed, causing extensive damage.
While such damage immediately affects a child's nutrition, speech development and self-esteem, it could also impact their future oral health. Permanent teeth often erupt out of position because of missing primary teeth lost prematurely, creating a poor bite. And children with ECC are more likely to have cavities in their future permanent teeth.
While there are a number of effective treatments for repairing ECC-caused damage, it's best to try to prevent it before damage occurs. A large part of prevention depends on you. You should, for example, begin oral hygiene even before teeth come in by wiping their gums with a clean, damp cloth after feeding. After teeth appear, switch to daily brushing with just a smear of toothpaste.
Because refined sugar is a primary food source for decay-causing bacteria, you should limit it in their diet. In the same vein, avoid sleep-time bottles with fluids like juices, milk or formula. As they grow older, make sure snacks are also low in sugar.
You should also avoid spreading your own oral bacteria to your baby. In this regard, don't put their eating utensils or pacifier in your mouth and don't drink from the same cup. Avoid kissing your baby on the lips. And above all, take care of your own oral health to prevent your own encounter with dental disease.
Finally, start regular dental visits on or before your baby's first birthday. Regular cleanings and checkups increase the chances for early decay detection, as well as provide for treatments and prevention measures that can reduce the disease's spread and destruction.
ECC can be devastating to both your baby's current and future dental health. But with vigilance and good dental practices, you may be able to help them avoid this serious disease.
If you would like more information on tooth decay prevention in young children, please contact us or schedule an appointment for a consultation.
By Personalized Dentistry
March 31, 2018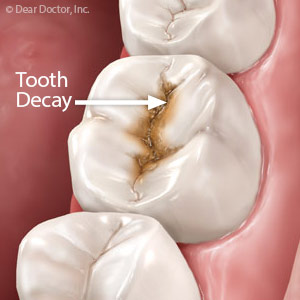 Tooth decay doesn't suddenly appear out of the blue. Cavities and other damage are the result of a long process that begins with bacteria living in a thin biofilm on tooth surfaces known as plaque. These bacteria thrive on sugars from leftover food in your mouth and then produce acid as a waste product. Chronic high levels of acid cause your enamel, the protective layer of your teeth, to soften and erode.
While there are treatment options at each stage of decay — including crowning or even tooth replacement — the best approach is to try to prevent plaque buildup that supports disease-causing bacteria. Here are 3 of the best ways you can do that.
Brush and floss daily. It usually takes 12-24 hours for enough plaque buildup to support bacteria. By brushing and flossing at least once a day, you can remove most of this buildup, with twice a year dental cleanings to remove hard to reach plaque you may have missed. Be sure to use fluoride toothpaste to help strengthen enamel against high acid. And wait a half hour to an hour after eating before brushing to give saliva time to reduce the acid level in your mouth.
Cut back on sweets. You're not the only one who loves sugary snack foods — so do oral bacteria. The more sugar and other carbohydrates they feast on, the more they produce acid. The best approach is to cut out sugar-rich snacks altogether and instead snack on fresh fruits, raw vegetables or dairy products. Limit sweet treats to meal times.
Use decay-fighting supplements. Your mouth and hygiene efforts may need a little assistance, especially if you have low saliva flow. You can boost this with an artificial saliva supplement as well as with products containing xylitol, an alcohol-based sugar. Xylitol also has an added benefit in the fight against decay because it inhibits bacterial growth. And be sure to talk with us first before taking any dental supplement.
If you would like more information on dental hygiene and care, please contact us or schedule an appointment for a consultation. You can also learn more about this topic by reading the Dear Doctor magazine article "Cost-Saving Treatment Alternatives."