Posts for tag: dental implants
By Personalized Dentistry
March 22, 2019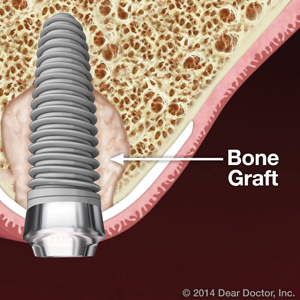 Every day the forces you generate when you bite or chew can exert enormous pressure on your teeth. And day after day your teeth remain stable and secure, thanks to an intricate system of periodontal ligaments, attaching gum tissue and bone. The latter element is especially important — healthy bone makes healthy teeth.
And vice-versa — the same biting forces are transmitted through the tooth root to the bone via the periodontal ligament to stimulate new bone growth to replace older bone that has dissolved (resorbed). If a tooth's missing, however, the bone doesn't receive that stimulation, and the resorbed bone isn't replaced at a healthy rate. In fact, you can lose up to a quarter of bone width in the first year alone after tooth loss.
And this can cause a problem when you're looking to replace that missing tooth with what's considered the best restorative option available: dental implants. Known for their life-likeness and durability, implants nonetheless need sufficient bone to anchor properly for the best outcome. Without it, implants simply aren't practical.
But that doesn't have to be the end of the story: it's quite possible to regenerate enough bone to support implants through bone grafting. Bone material from the patient (or another donor, human, animal or synthetic) is placed under the gum at the missing tooth site to serve as a scaffold for new growth. The new bone growth will eventually replace the graft material.
The size of the graft and extent of the procedure depends of course on the amount of bone loss at the site. Loss can be kept to a minimum, though, if the graft is placed immediately after a tooth extraction, a common practice now. After a few months, the bone created through the graft is sufficient for supporting an implant and gives you the best chance for a beautiful outcome.
If you're considering an implant for a missing tooth, you should schedule a consultation appointment with us as soon as possible. After a thorough dental exam, we'll be able to tell you if bone grafting to support implants is a good idea for you. It adds a little more time to the overall implant process, but the results — a new, more attractive smile — will be well worth it.
If you would like more information on bone regeneration, please contact us or schedule an appointment for a consultation. You can also learn more about this topic by reading the Dear Doctor magazine article "Can Dentists Rebuild Bone?"
By Personalized Dentistry
January 20, 2019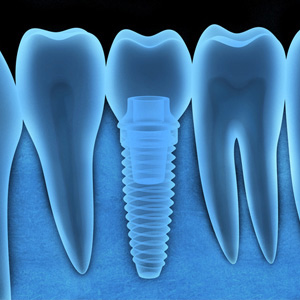 While many people still consider dental implants the "new kids on the block" in dental restoration, they're now in their fourth decade of use. And since their inception implant technology has continued to improve and revolutionize how we replace missing teeth.
Implants are a different "species" compared to other restoration methods. To be precise, an implant is a tooth root replacement—usually a titanium metal post imbedded directly into the jaw bone. Titanium is not only a biocompatible metal, but bone cells naturally grow on its surface to create a strong and durable hold. It's this secure hold that's most responsible for implants' high long-term success rate.
But we should also credit some of this success to the steady stream of advances over the years in implant construction and supporting technologies. For one thing, we're now more accurate and precise with implant placement thanks to advances in computer tomography (CT) and cone beam CT (CBCT) scanning.
These digital processes merge a series of images taken by a special camera to form a three-dimensional model of the jaw. We can manipulate this model on a computer monitor to view it from different vantage points. It can help us locate and avoid anatomical structures like nerves and sinuses when determining where to place a future implant. CT and CBCT are especially useful when there's a concern about adequate available bone, a necessity for stable implants.
Technology has also improved how we create surgical guides, often used during implant surgery to obtain the most accurate results. Surgical guides are custom-made devices that fit over the teeth with the drilling locations for the implants marked on them. Recent advances in 3-D printing have made these guides even more accurate so that they fit more securely in the mouth. This greater stability increases their accuracy during the drilling sequence during surgery.
These and other advances are helping ensure every implant is a success story. The end result is both a functional restoration and a beautiful smile.
If you would like more information on dental implants, please contact us or schedule an appointment for a consultation. You can also learn more about this topic by reading the Dear Doctor magazine article "How Technology Aids Dental Implant Therapy."
By Personalized Dentistry
November 21, 2018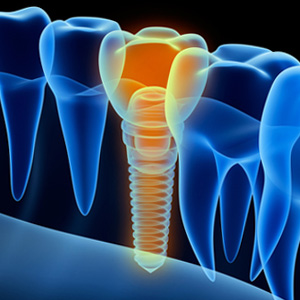 The dental implant is the closest thing in modern dentistry to a natural tooth. This is because an implant replaces more than the visible crown — it also replaces the root, thanks to a metal post imbedded in the bone.
But what if you have a metal allergy — are you out of luck replacing a tooth with an implant? Before answering this question, let's take a closer look at metal allergies.
An allergy is an overreaction of the body's immune system to a particular foreign substance. This response can be as inconsequential as a minor rash or as life-threatening as a shutdown of the body's organ systems. You can be allergic to anything, including metals.
Usually, these allergies are to specific kinds of metals. For example, about 17% of women and 3% of men are allergic to nickel, while smaller percentages are allergic to cobalt or chromium. Most allergic reactions to metal occur from external contact with jewelry or similar metal items that create rashes or other anomalies on the skin. On a more serious note, an allergy to metal in a body replacement part could result in the body rejecting it.
Metals have also played an important role in dental care, particularly dental amalgam used for tooth fillings. Dental amalgam is a mixture of a precious metal like gold or silver with other metals like copper, tin and, in small amounts, mercury. While dental amalgam has been used safely for decades, there have been rare cases of inflammation or rashes.
This brings us to dental implants and the most common metal used in them, titanium. The commercial version of this metal is highly prized in medical and dental applications because it has a special affinity with bone. Bone cells readily grow and adhere to the metal, which strengthens the bond between the implant and the jawbone.
Even if you have a rare allergy to certain metals, it's even rarer that would include titanium. In one particular study of 1,500 implant patients less than 1% reported any reaction at all.
If you're concerned, you can undergo testing to see if you react to titanium. More than likely, though, you'll be able to join the millions of other patients who have successfully restored their smiles with dental implants.
If you would like more information on dental implants as a tooth replacement option, please contact us or schedule an appointment for a consultation. You can also learn more about this topic by reading the Dear Doctor magazine article "Metal Allergies to Dental implants."