Posts for tag: Teeth Whitening
By Personalized Dentistry
April 01, 2019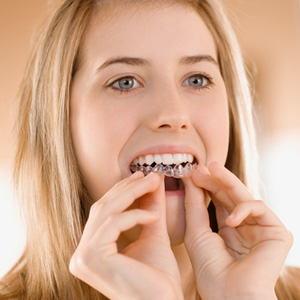 Do-it-yourself (DIY) whitening kits are a popular option for restoring a healthy shine to stained and dulled teeth. They're relatively safe and generally live up to their packaging claims.
But a home kit might not always be your best option. Here are 4 reasons why DIY whitening might not be right for you.
You're on the early side of your teen years. Tooth whitening at home is quite popular with teenagers. For older teens it doesn't really pose a dental risk as long as you use the product appropriately (more on that in a moment). However, the immature enamel of younger teens' permanent teeth is still developing and can be vulnerable to damage by whitening processes.
You don't follow instructions well. Not to say you have this particular character quirk — but if you do you may run into trouble with DIY whitening. Home kits are safe if you follow their instructions carefully. If you use them to excess as one 13-year old boy was reported to have done, you could severely (and permanently) erode your teeth's protective enamel.
Your teeth are in need of dental work. Tooth whitening can't fix everything that may be contributing to an unattractive smile. It's always better to have issues like dental disease or chipped teeth addressed first before whitening. And, if your tooth discoloration originates from inside your tooth, a whitening kit won't help — they're only designed for staining on the enamel's outside surface. You'll need a special dental procedure to whiten internal (or intrinsic) tooth staining.
You want to control the amount of brightness. Home kits don't have the level of fine-tuning that a clinical procedure can achieve. While the bleaching agent in a professional whitening solution is much stronger than a home kit, your dentist is trained in techniques that can vary the amount of bleaching, from a softer white to dazzling "Hollywood" bright. And clinical whitening usually takes fewer sessions and may last longer than a home kit.
If you're interested in teeth whitening, see your dentist for a dental examination first before purchasing a DIY kit. Even if you decide to do it yourself, your dentist can give you buying advice for whitening kits, as well as how-to tips.
If you would like more information on tooth whitening, please contact us or schedule an appointment for a consultation. You can also learn more about this topic by reading the Dear Doctor magazine article "Tooth Whitening Safety Tips."
By Personalized Dentistry
October 29, 2018
It's time to find out how professional teeth whitening can spruce up your smile.
It's inevitable that our smiles will begin to dull and yellow over the years. Luckily, with the help of today's developments in cosmetic dentistry, there are multiple amazing ways to rejuvenate your smile! If you have been struggling with discolored teeth, our Sayreville, NJ, dentist Dr. Bhatti can help you achieve that more radiant smile you've been looking for.
The Benefits of In-Office Teeth Whitening
One reason so many people turn to professional in-office teeth whitening is that they can see amazing results after just one session. In fact, sometimes one treatment in our Sayreville office is all it takes! This aspect is especially great if you want to get a whiter smile before a special event such as a wedding or an important job interview.
Of course, some people may be hesitant to get teeth whitening because they worry about tooth sensitivity, which is a common side effect of whitening. If you have this hesitation, all you have to do is let us know during your consultation. One of the benefits of having a dental professional whiten your smile is that they can tailor your treatment to your specific needs and reduce the likelihood for sensitivity.
External dental stains caused by aging, as well as certain foods and drinks, respond the best to professional teeth whitening. These stains are often yellow in nature. Of course, if you have stains caused by years of smoking they may also respond well to treatment but it may take several sessions to get the results you want. Internal stains, on the other hand, won't respond to professional teeth whitening. This includes stains caused by using antibiotics for long periods of time or exposing your teeth to excessive amounts of fluoride. Teeth whitening also won't whiten dental restorations such as dental filling, crowns, or veneers.
Intrigued? Call today!
Are you ready to brighten your smile and want to turn to our Sayreville, NJ, dentist for professional whitening treatment? If so, call Personalized Dentistry today at (732) 721-3311. We will be happy to schedule your free consultation to find out if teeth whitening is right for you.