Posts for: December, 2018
By Personalized Dentistry
December 11, 2018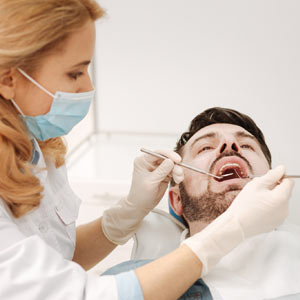 Cancer treatment can consume all of your focus to the exclusion of other health issues. But these other issues still need attention, especially how treating cancer could affect other parts of your body. That definitely includes your teeth and gums.
Treatments like radiation or chemotherapy eradicate cancer cells disrupting their growth. Unfortunately, they may do the same to benign cells — "collateral damage," so to speak. This could cause a ripple effect throughout the body, including in the mouth. Radiation, for example, could damage the salivary glands and result in reduced salivary flow. Because saliva neutralizes acid and diminishes bacterial growth, your risk for tooth decay as well as periodontal (gum) disease could increase.
While you may be able to recover from reduced salivary flow after treatment, your health could suffer in the meantime, even to the point of tooth and bone loss. Fortunately, there are some things we can do before and during your treatment.
If you can, have any necessary dental work performed well before you begin cancer treatment. You'll be more resistant to side effects if you can start treatment with as healthy a mouth as possible.
Keep up your regular dental visits if at all possible, or see us if you begin seeing signs of dental disease. By staying on schedule, we'll have a better chance of detecting and treating problems before they advance too far; we may also be able to provide preventive measures like topical fluoride applications to help keep your teeth resistant to disease. If you need more extensive treatment like tooth extraction or surgery we may need to coordinate with your cancer treatment provider.
Above all, continue to practice daily brushing and flossing to remove plaque, the main cause of dental disease. Drink plenty of water or take substances that boost salivation. And be sure to eat a nutritious diet while also reducing or eliminating tobacco or alcohol from your lifestyle.
Taking these steps will help protect your teeth and gums during cancer treatment. As a result, you have a better chance for maintaining your dental health during this critical time in your life.
If you would like more information on dental care during cancer treatment, please contact us or schedule an appointment for a consultation. You can also learn more about this topic by reading the Dear Doctor magazine article "Oral Health During Cancer Treatment."
By Personalized Dentistry
December 01, 2018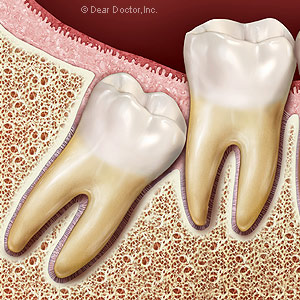 The reason for extracting a tooth may be all too obvious — the tooth is too decayed or damaged to attempt saving. The reason for extracting a wisdom tooth, on the other hand, may not be so apparent: from the perspective of pain or reduced function, you may not notice a thing. Our recommendation to remove a wisdom tooth is based primarily on what may be occurring out of view below the gum line and its potential threat to adjacent teeth.
Teeth grow and develop below the gum line in the jaw, and then push their way through the gums as they appear in the mouth (eruption). After a normal eruption, the enamel-covered crown is visible above the gum line; the remaining tooth root (about two-thirds of the tooth's length) resides below the gum line. Because wisdom teeth, or third molars, erupt rather late between ages 17 and 25, they may lack the room to erupt properly due to crowding from other teeth that have already erupted. This can cause the wisdom tooth not to erupt fully through the gums, leaving the crown trapped below the gum line, a condition known as impaction. For the tooth, impaction increases the chances of infection, cyst formation and gum disease around it.
An impacted wisdom tooth can also cause problems for the adjacent teeth as well. The impacted tooth may begin to press against the roots of other teeth; the resulting pressure can damage the other roots, increasing the risk for disease or future tooth loss. A person may not even know they have this problem since there's often little to no noticeable pain or symptoms.
It may seem counterintuitive, but the best time to remove a wisdom tooth is when it's not causing immediate problems. There will be, however, signs found during examination (particularly x-rays or CT scan) that future problems are in the making. By extracting an impacted wisdom tooth at the appropriate time, we can avoid more serious problems in the future and improve oral health.
If you would like more information on wisdom teeth and your oral health, please contact us or schedule an appointment for a consultation. You can also learn more about this topic by reading the Dear Doctor magazine article "Removing Wisdom Teeth."